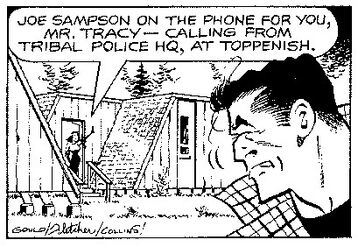 The Yakima Indian Reservation was located in south central Washington State. It was closed to the general public and had checkpoints at the major entrances and exits. It reportedly had hundreds of back roads covering nearly a million miles of wooded area.
One of the features of the reservation was Camp Chaparral, a combination school and camp where Yakima children were taught by both Native Yakima and people from outside the reservation. One of these teachers was Bonnie Tracy, the daughter of Dick Tracy.
The Yakima Reservation had its own police force under the supervision of Police Chief Proud. They also liaised with the local non-reservation police, including Detective Joe Sampson, who was himself a full-blooded Yakima.
The Yakima Reservation is where the fugitive musician Bony fled with his girlfriend Claudine. It was there that they encountered Vitamin Flintheart and Tess Tracy, who was eight months pregnant with her second child. Joe Tracy was born on the Reservation.
Ad blocker interference detected!
Wikia is a free-to-use site that makes money from advertising. We have a modified experience for viewers using ad blockers

Wikia is not accessible if you've made further modifications. Remove the custom ad blocker rule(s) and the page will load as expected.