"Whistle" Willis

"Whistle" Willis (far left), with Dick Tracy and Roach

First Appearance: June 6th, 1945

June 6th, 1946

Known Associates:

Created By:

Can Be Found:
The man known as "Whistle" Willis was a pickpocket and an accomplice of
Roach
. Willis typically wore a bowtie and cloth cap. He had a habit of whistling, hence his nickname.
"Whistle" Willis was one of several members of Roach's gang of pickpockets who paid the political "fixer" known as Shoulders to protect them. After Roach attracted the attention of Dick Tracy, Willis and Roach attempted to assault Tracy. Tracy was prepared for the ambush, and both Roach and Willis were taken into custody.
Willis was not seen to be acting as a part of Roach's gang after his arrest. A later Rogues' Gallery features indicated that he received a one-year prison sentence.
"Whistle" Willis' name was not stated during his initial appearance in the strip. It was established in a later Rogues' Gallery feature.
There has not been any connection established between "Whistle" Willis and Roundy Willis.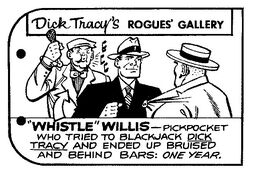 Ad blocker interference detected!
Wikia is a free-to-use site that makes money from advertising. We have a modified experience for viewers using ad blockers

Wikia is not accessible if you've made further modifications. Remove the custom ad blocker rule(s) and the page will load as expected.