Ugly Christine

Ugly Christine (center), with Mr. Bribery, Matty Square, and Kitty (right)

First Appearance:

October 3rd, 1965

Real Name:

Unrevealed

Known Relatives:

Known Associates:

Matty Square (Deceased)
Nah Tay (Deceased)
Miss Deal
Unnamed Twin Space Coupe Thieves (Deceased)

Appearance of Death:

September 26th, 1966

Created By:

Can Be Found:
Ugly Christine was the sister of Mr. Bribery. She had long dark hair that she wore brushed down over her eyes, which were set uncommonly wide on her face. Despite her name, she sometimes worked as a model.
Criminal Activities
Edit
Ugly Christine often branded members of Bribery's gang, as she was also branded herself. She joined her brother on several of his criminal endeavors, including the attempted kidnapping of the infant Honeymoon Tracy, and the theft of a Space Coupe.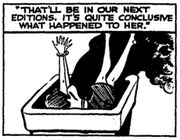 When
Dick Tracy
discovered Mr. Bribery's office and the evidence of his various criminal activities, Ugly Christine was the first member of the gang taken into custody. Despite the efforts of
Lizz
and Tracy, Ugly Christine committed suicide by throwing herself from a magnetic
Air Car
and was burned to death in a fiery chimney (September 26th, 1966). The melted remnants of her handcuffs were all that was recovered of her.
It was assumed that Ugly Christine's real name was Christine Packet, since she did not appear to have been married and her brother's name was Joie Packet. However, a 2015 storyline indicated that "Joie Packet" was not actually Mr. Bribery's real name (but was instead the name of his body double), thus making Ugly Christine's real name unconfirmed. 
Ad blocker interference detected!
Wikia is a free-to-use site that makes money from advertising. We have a modified experience for viewers using ad blockers

Wikia is not accessible if you've made further modifications. Remove the custom ad blocker rule(s) and the page will load as expected.