"Singer" Smitone

"Singer" Smitone (right), with Dick Tracy

First Appearance:

April 6th, 1938

Created By:

Can Be Found:
The man known as "Singer" Smitone was a criminal informant in
Dick Tracy's
city
. He had prominent teeth and typically wore round eyeglasses and a flat cap.
When the woman Noana was discovered hidden aboard Stud Bronzen's boat, she revealed to Dick Tracy that she was intended to be sent to a man named Ramm. Tracy summoned Singer Smitone to police headquarters to find out more information about Ramm. Smitone cooperated and told Tracy where Ramm's restaurant was located.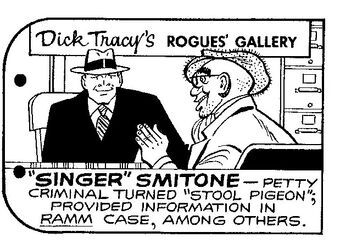 Ad blocker interference detected!
Wikia is a free-to-use site that makes money from advertising. We have a modified experience for viewers using ad blockers

Wikia is not accessible if you've made further modifications. Remove the custom ad blocker rule(s) and the page will load as expected.