"Lever" Sam Doty was a member of the Redrum Slot Machine Gang of 1926. He later became the boss of a small gang that installed illegal slot machines in gambling houses.
"Lever" Sam Doty was bald and had thick, bushy eyebrows.
Victim of The Blank
Edit
Doty was kidnapped by his old boss The Blank who, instead of killing him, tied him up and pushed him out of a moving car in front of Police Headquarters. Although he initially refused to cooperate with Dick Tracy's demands to reveal the Blank's identity, Doty panicked when hooked up to a lie detector machine. This enabled Tracy to deduce that the Blank's true identity was probably already in police files.
Redrum's decision not to kill Doty is puzzling, as it essentially gives the Tracy and the police their most important clues to Redrum's identity and motives.
A later Rogues' Gallery feature stated that Doty had been executed for his various crimes.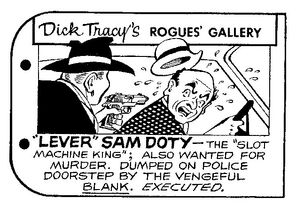 Ad blocker interference detected!
Wikia is a free-to-use site that makes money from advertising. We have a modified experience for viewers using ad blockers

Wikia is not accessible if you've made further modifications. Remove the custom ad blocker rule(s) and the page will load as expected.