Rod Hoze and his cousin Nilon tried to undo their aunt's marriage to a wealthy prospector who she had communicated with by mail by capturing him and replacing him with B.O. Plenty. Their aunt realized her mistake of marrying someone she had never personally met and sent him away. However, the prospector had a heart attack and died. They hid the body but were eventually discovered. The two were handcuffed together and Rod rather than face jail time jumped in front of a moving milk truck killing them both.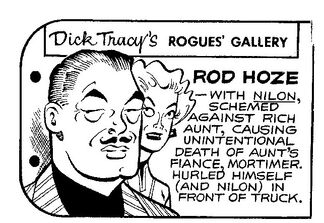 Ad blocker interference detected!
Wikia is a free-to-use site that makes money from advertising. We have a modified experience for viewers using ad blockers

Wikia is not accessible if you've made further modifications. Remove the custom ad blocker rule(s) and the page will load as expected.