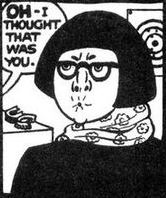 Character Biography
Edit
Pucker Puss was a contract killer who had false teeth which gave his mouth a puckered look. These dentures was specially modified to contain a secret firearm that he used to kill people.
Pucker Puss had dark hair that he wore in a pageboy style. He typically wore eyeglasses.
Pucker Puss kidnapped Lizz and hijacked a taxi, then tried to kill both Lizz and the cab driver.
Pucker Puss was killed in a gunfight with Dick Tracy (June 13th, 1976).
Ad blocker interference detected!
Wikia is a free-to-use site that makes money from advertising. We have a modified experience for viewers using ad blockers

Wikia is not accessible if you've made further modifications. Remove the custom ad blocker rule(s) and the page will load as expected.