Mussel (full name unrevealed) was a member of Little Face Finny's gang. He typically wore a hat with a wide brim pulled down over his eyes.
When Little Face discovered that another member of the gang - J.C. - had used his monogrammed handkerchief as a mask during a jewel heist, he had Mussel hold J.C.'s arms as he lit the handkerchief on fire while it was still in J.C.'s breast pocket.
When the gang's activities were uncovered by Dick Tracy and the police, Mussel went into hiding along with his associate Baldwin. Little Face (who had been the subject of a police manhunt) was eventually able to contact Mussel and enlist him in a plan to be smuggled out of the home of Charley Yonem. Mussel's activities at the Yonem home were observed by the police, and he was taken into custody along with Little Face and his other confederates.
A later Rogues' Gallery feature indicated that Mussel received a 20 year prison sentence.
The identities of the various members of the Little Face gang are difficult to establish. It is possible that J.C. was also one of the two men who encountered Joe Ballivan at the wrecked bus and attempted to find out where he had hidden the stolen jewels, but this cannot be confirmed as only one of the men (Chig) was addressed by name.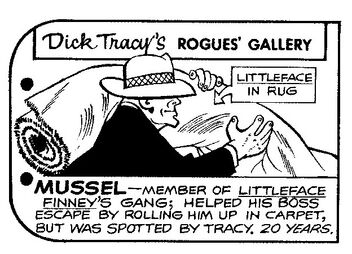 Ad blocker interference detected!
Wikia is a free-to-use site that makes money from advertising. We have a modified experience for viewers using ad blockers

Wikia is not accessible if you've made further modifications. Remove the custom ad blocker rule(s) and the page will load as expected.