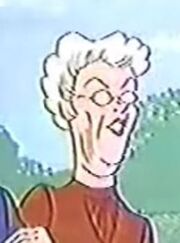 Miss Canine was a character who appeared in one episode of the animated Dick Tracy adventures that aired as part of the "Archie's TV Funnies" series.
Miss Canine was a wealthy elderly woman whose home was used by Pruneface as part of his plot to train dogs to attack police. Pruneface had lied to Miss Canine, telling her that the dogs were strays that were being re-trained.
Miss Canine was approached by Tess, and the two were quickly captured by Pruneface, who left them tied up in Miss Canine's basement. While trying to escape, Tess accidentally broke a water pipe and the basement started the flood. Tess and Miss Canine were nearly drowned, but they were rescued by Dick Tracy.
Miss Canine's appearance seems to have been modeled on that of Mrs. Van Hoosen.
Ad blocker interference detected!
Wikia is a free-to-use site that makes money from advertising. We have a modified experience for viewers using ad blockers

Wikia is not accessible if you've made further modifications. Remove the custom ad blocker rule(s) and the page will load as expected.