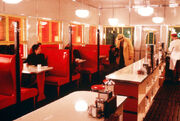 Mike's Diner was a location specifically created for the 1990 Dick Tracy feature film.
As a popular dining spot for Dick Tracy, along with Tess Trueheart, Junior and Chief Brandon, Mike's Diner served as a counterpoint to the Club Ritz, which was the base of operations for the villains of the film.
It was staffed (and apparently owned) by Mike.
Ad blocker interference detected!
Wikia is a free-to-use site that makes money from advertising. We have a modified experience for viewers using ad blockers

Wikia is not accessible if you've made further modifications. Remove the custom ad blocker rule(s) and the page will load as expected.