Micky Stanley was a bus driver in Dick Tracy's city.
Micky Stanley became involved with Little Face's gang of jewel thieves. The gang would rob victims along Stanley's bus route, then use the bus as an escape vehicle. They would transfer stolen gems to Stanley, who would arrange for them to be fenced.
After one such robbery, Stanley refused to give the robbers cash for the jewels they had stolen, so they shot him. Stanley lost control of the bus and crashed into a building. He was able to hide the stolen jewels in a bus seat before being found by police and taken to a hospital.
In the hospital, Stanley was secretly visited by the newspaper columnist Joe Ballivan before Stanley went in for surgery. Stanley drifted in and out of consciousness, but was lucid enough to reveal where he had hidden the jewels.
Later, two members of Little Face's gang visited Stanley disguised as female relatives. They shot him and fled.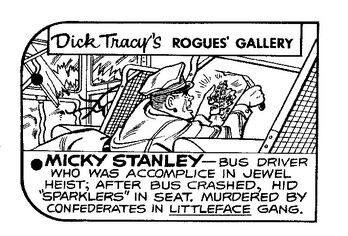 Ad blocker interference detected!
Wikia is a free-to-use site that makes money from advertising. We have a modified experience for viewers using ad blockers

Wikia is not accessible if you've made further modifications. Remove the custom ad blocker rule(s) and the page will load as expected.