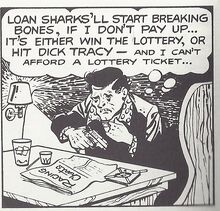 Louie Small was a petty gambler who was busted a couple of times by Sam and Dick Tracy for running dice games. Louie was deep in debt to loan sharks when he heard of Big Boy's one million dollar contract on Dick Tracy's head. Louie gained access to police headquarters by assaulting a janitor and stealing his clothes. However while trying to kill Dick Tracy, Louie was knocked out of a window and fell to his death.
Ad blocker interference detected!
Wikia is a free-to-use site that makes money from advertising. We have a modified experience for viewers using ad blockers

Wikia is not accessible if you've made further modifications. Remove the custom ad blocker rule(s) and the page will load as expected.