Loma (full name unrevealed) was a circus aerial performer who aided Dick Tracy during the affair with Little Face Finny. She was an attractive, slender woman with long blonde hair.
Daring Rescue
Edit
Loma was visiting her attorney, whose office was in the same building from which Little Face ran his criminal operation. After Dick Tracy was stranded high above the street on a collapsed window-washing platform, Loma used her acrobatic ability to rescue him. Tracy was skeptical of her ability at first, but expressed gratitude after being saved.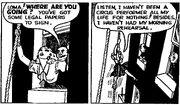 Loma was accompanying Tracy to the police station to make a statement when they encountered Little Face again. Little Face claimed to be part of the traveling circus (having seen a billboard advertising it), but Loma contradicted his story. Little Face then took Loma as a hostage and fled.
Little Face left Loma, apparently unharmed, after the car he had attempted to escape in crashed.
Loma has occasionally been mis-identified as "Lola", but her name is clearly stated at several times in the strip.
Ad blocker interference detected!
Wikia is a free-to-use site that makes money from advertising. We have a modified experience for viewers using ad blockers

Wikia is not accessible if you've made further modifications. Remove the custom ad blocker rule(s) and the page will load as expected.