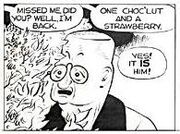 Kincaid "Canhead" Plenty was
B.O. Plenty
's wealthy older brother. He had short dark hair and wore eyeglasses. He was nicknamed "Canhead" as a child because his younger brother B.O. was unable to pronounce "Kincaid".
Canhead came to visit the Plentys at Sunny Dell Acres and was appalled at the building's dilapidated state. He insisted on paying for improvements to the home, including a modern bathroom.
While construction was underway, Canhead was blackmailed by his ex-wife Pony (one of 5 former wives) and 3-D Magee, who put him in a vest made of TNT. He survived and was cleared of the murder charges Pony was holding against him.
Ad blocker interference detected!
Wikia is a free-to-use site that makes money from advertising. We have a modified experience for viewers using ad blockers

Wikia is not accessible if you've made further modifications. Remove the custom ad blocker rule(s) and the page will load as expected.