Joe was an associate of The Brow. He had a pointed nose and typically wore a hat. and a polo shirt with a wide collar.
Joe was killed in a gunfight with June Summer, one of the Summer Sisters.
Another associate of the Brow appeared on June 17th, 1944, wearing a similar shirt to how Joe was depicted. This unnamed man did not wear a hat, and his facial features are ambiguous enough that it can't be confirmed if this was meant to be Joe.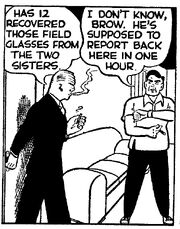 Ad blocker interference detected!
Wikia is a free-to-use site that makes money from advertising. We have a modified experience for viewers using ad blockers

Wikia is not accessible if you've made further modifications. Remove the custom ad blocker rule(s) and the page will load as expected.