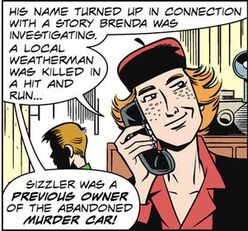 First Appearance (in "Dick Tracy"): November 10, 2011.
Hank O'Hair was a female reporter for the "Daily Flash" newspaper. She was contacted by Dick Tracy when Tracy was investigating the dead body found at Abner Kadaver's Halloween attraction.
O'Hair provided some information that she had learned from a case reported on by her colleague, Brenda.
Hank O'Hair is a character from the long-running newspaper comic strip Brenda Starr, Reporter.
Brenda Starr, Reporter was also distributed by Tribune Media Services. The strip was specifically stated to take place in Chicago. However, Tracy never specifies if he is calling from the same city.