Character Biography
Edit
Fred Mason was a manufacturer along with his partner Freez. During a business quarrell, Mason killed his partner and tried to dispose of the body. Tthe only witness to the crime was Mary X, who suffered a memory loss. Dick Tracy uncovered both the body and Mary' memory.
While Mason was being arrested, he was killed by Junky Doolb.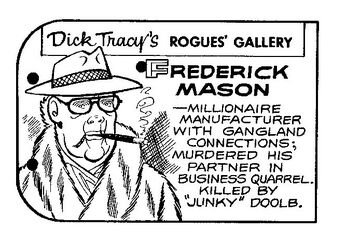 Ad blocker interference detected!
Wikia is a free-to-use site that makes money from advertising. We have a modified experience for viewers using ad blockers

Wikia is not accessible if you've made further modifications. Remove the custom ad blocker rule(s) and the page will load as expected.