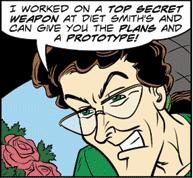 Ed Garcia was the nephew of Texie Garcia. He had wavy brown hair and wore eyeglasses.
Ed worked at Diet Smith Industries. Seeking money and adventure, Ed conspired with Willie the Fifth and Flyface to steal a experimental laser weapon that the company was developing.
He and Fifth were accidentally killed by the weapon when it backfired on them.
Ad blocker interference detected!
Wikia is a free-to-use site that makes money from advertising. We have a modified experience for viewers using ad blockers

Wikia is not accessible if you've made further modifications. Remove the custom ad blocker rule(s) and the page will load as expected.