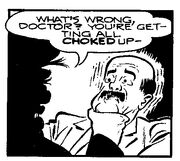 Character Biography
Edit
Dr. Mitciv ("Victim" spelled backwards) was a psychiatrist who had been assigned to the treatment of the criminal and former actor Harley Niav, aka Putty Puss. He believed that Niav had made progress and had even regained his sanity, but Mitciv told Niav that he would not be able to secure his release. Harley strangled Dr. Mitciv to death and escaped by adopting the doctor's features. The body was discovered soon afterwards and Dick Tracy was called in to investigate.
Can be Found
Edit
Ad blocker interference detected!
Wikia is a free-to-use site that makes money from advertising. We have a modified experience for viewers using ad blockers

Wikia is not accessible if you've made further modifications. Remove the custom ad blocker rule(s) and the page will load as expected.