Dirks (full name unrevealed) had been a member of the Redrum slot machine gang. His fellow criminal Neely later joined the Danny Supeena gang.
Dirks had dark hair and a moustache.
Victim of The Blank
Edit
Shortly after the dismantling of Danny Supeena's gang, Dirks and Neely kidnapped Junior Tracy, who was an important witness against another member of the gang. Dirks and Neely were about to kill Junior in Dick Tracy's garage when the Blank rescued Junior.
The Blank then tied Dirks and Neely under Tracy's car and left them in the closed garage with the car's engine running. They were asphyxiated and their bodies were later found by Tracy.
While Dirks helped Neely in his effort to aid Jerry Lotsip, another member of the Danny Supeena gang, it is not clear if Dirks himself was a member of Supeena's gang.
There is no apparent connection between Dirks and Dirks, an ally of John Lavir.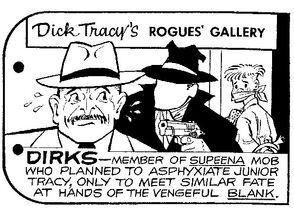 Ad blocker interference detected!
Wikia is a free-to-use site that makes money from advertising. We have a modified experience for viewers using ad blockers

Wikia is not accessible if you've made further modifications. Remove the custom ad blocker rule(s) and the page will load as expected.