This wiki is about Dick Tracy, the American newspaper comic strip. Dick Tracy is one of America's most-enduring pop-cultural icons, noteworthy for its steadfast, chisel-jawed hero and the gruesome rogue's gallery of villains he and his fearless team of Crimestoppers must outwit to put behind bars.
Created by Chester Gould[1], the strip made its debut on October 4, 1931, in the Detroit Mirror. It was distributed by the Chicago Tribune New York News Syndicate. Gould wrote and drew the strip until 1977. Gould was followed by Max Allan Collins and Gould's longtime assistant Rick Fletcher.
Following the death of Fletcher in 1983, Collins was joined by editorial cartoonist Dick Locher, who had assisted Gould on the strip in the late 1950s and early 1960s. In 1992, Collins left the strip, and Tribune staff writer and columnist Mike Kilian took over the writing until his death in 2005. Locher would handle the strip alone for the next three years before being joined by artist Jim Brozman. They would continue to produce the strip until Locher retired in early 2011.
The Dick Tracy strip continues to be published today with artist Joe Staton[2] and writer Mike Curtis at the helm. Gould's run of the strip is in the process of being collected in a series of hardcover volumes through IDW Publishing. The strip is currently re-published up to 1961.
This wiki allows anyone to edit it. So please share the knowledge and add information about the Dick Tracy series, characters, stories, movies and other appearances.
Contribute to this wiki
To write a new article, just enter the article title in the box below.
Not sure where to start?
Featured article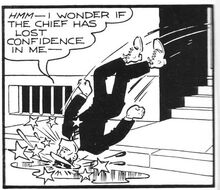 Fearless Fosdick is the fictional detective that appears in the strip-within-a-strip in L'il Abner. Fosdick is a parody of Dick Tracy, with an exaggerated chin, squinting eyes and repetitive wardrobe. Fosdick was dedicated police officer, though he tended to lean heavily on the use of excessive force. He also lived a life of poverty, forcing him to rely on his long-time fiancee to feed him.