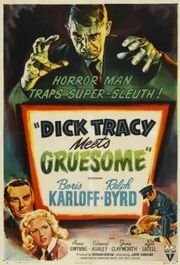 "Dick Tracy Meets Gruesome" was a 1947 feature film released by RKO Pictures. It starred
Ralph Byrd
as the
titular detective
. It was directed by John Rawlins and produced by Herman Schlom. It was the fourth and final "Dick Tracy" feature film produced by RKO in the 1940s.
Plot Summary
Edit
Dick Tracy encounters a ruthless villain known as Gruesome, who commits robberies with aid of a unique paralyzing gas.
Ad blocker interference detected!
Wikia is a free-to-use site that makes money from advertising. We have a modified experience for viewers using ad blockers

Wikia is not accessible if you've made further modifications. Remove the custom ad blocker rule(s) and the page will load as expected.