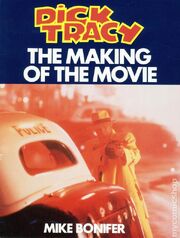 ISBN #0553349007
Dick Tracy: The Making of the Movie was a non-fiction book released in conjunction with the 1990 Dick Tracy feature film. It was written by Mike Bonifer and published by Bantam Books.
The book contains many photographs, both full-color and black and white. It includes production stills and behind-the-scenes pictures, as well as interviews with members of the cast and crew.
While the book is useful as reference material, in contains some inaccuracies that affect its credibility. It mis-identifies a drawing of The Mole (who does not appear in the film) as The Rhodent (who does). It also refers to Breathless Mahoney as having appeared in the 1930s, when the character did not debut in the strip until 1945.
The book was widely available at the time of its release and can be easily obtained today.
Ad blocker interference detected!
Wikia is a free-to-use site that makes money from advertising. We have a modified experience for viewers using ad blockers

Wikia is not accessible if you've made further modifications. Remove the custom ad blocker rule(s) and the page will load as expected.