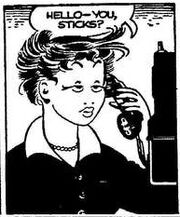 Dewdrop was cut out of her father's will when she married her husband
Sticks
. She and Sticks "rented" a baby to pose as their son to get back in the will. She later killed her father when he began to suspect her deception.
Dick Tracy
later killed Sticks, so Dewdrop went to Stick's brother
Open-Mind Monty
and tried killing Tracy, but was arrested. She later gave evidence against Money when he refused to pay for her attorney.
Dewdrop was eventually paroled and joined with Wormy and Measles in an armored car robbery attempt. It was implied that she had (or sought) a romantic involvement with both men.
Ad blocker interference detected!
Wikia is a free-to-use site that makes money from advertising. We have a modified experience for viewers using ad blockers

Wikia is not accessible if you've made further modifications. Remove the custom ad blocker rule(s) and the page will load as expected.