Detective Frisk (first name unrevealed) was an extremely driven and ambitious police officer who worked on several high-profile cases. She was tall and thin, with short blonde hair.
Early Appearance
Edit
Chief Patton brought Det. Frisk in to work on the case of the murdered millionaire Phil Fillagree.
Frisk's relationship with Dick Tracy started out as antagonistic, as Frisk saw Tracy as an obstacle to her career. When Tracy was accused of contaminating evidence, Frisk was suspected of framing him. Later, when Tracy was proven innocent, Frisk planned to commit suicide by jumping off a bridge. She believed that Tracy would attempt to discredit her, but Tracy talked her down and the two resolved their differences. The Fillagree case was later solved, and Frisk remained a member of the Major Crimes Unit.
Frisk led a solitary lifestyle, eating alone and working on holidays. Tracy invited her to his house for Christmas dinner in 2003.
Disappearance
Edit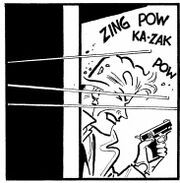 Later, Frisk took an interest in the unsolved case of
Sal Monella
, who had resurfaced and was promoting a fake rock concert at the city stadium. Frisk confronted Monella, who fled. Monella jumped into the back of a passing garbage truck, and Frisk followed him, jumping in as well. Shots were fired. The truck later dumped its contents onto a garbage scow, which then unloaded its cargo into the river.
No traces of Frisk or Monella were found, except for one of Frisk's shoes. She was officially listed as "missing" (March 9, 2004).
Ad blocker interference detected!
Wikia is a free-to-use site that makes money from advertising. We have a modified experience for viewers using ad blockers

Wikia is not accessible if you've made further modifications. Remove the custom ad blocker rule(s) and the page will load as expected.