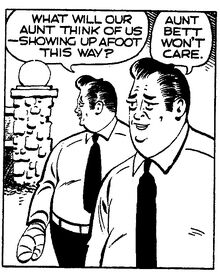 The Clipso Brothers (Jim and John) were apparently identical twins. They were heavyset, with thick dark hair.
The Clipso brothers had a criminal past. They attempted to trick the inventor Morin Plenty by assembling a machine that could supposedly replace a man's worn-out shoe heel while the man waited, without the necessity of removing the shoe. In fact, the replacement was made by Giant Setton, a small man who hid inside the machine.
Morin Plenty's wife Blossom discovered the deception, and she was killed as the Clipsos attempted to escape. During the altercation, a finger on Jim's right hand was shot off.
The Clipsos then killed Giant when he tried to leave their association. The Clipsos hid on the bee farm of their Aunt Bett, but they were tracked down and killed by Giant's widow.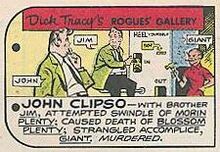 Ad blocker interference detected!
Wikia is a free-to-use site that makes money from advertising. We have a modified experience for viewers using ad blockers

Wikia is not accessible if you've made further modifications. Remove the custom ad blocker rule(s) and the page will load as expected.