Charley Ebirb

Charley (left), with Willie Wheeler

First Appearance:

October 21st, 1980

Known Associates:

Created By:

Can Be Found:
Charley Ebirb ("bribe" spelt backwards) was the manager of the apartment building where the
Wheeler
family lived.
Charley complied with the arsonist Torcher to make sure the building was empty so that Torcher could burn it down on the owner's behalf.
It is unclear if he was charged for his activities.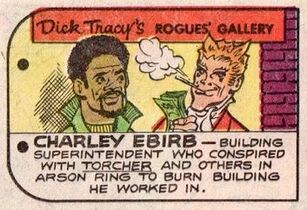 Ad blocker interference detected!
Wikia is a free-to-use site that makes money from advertising. We have a modified experience for viewers using ad blockers

Wikia is not accessible if you've made further modifications. Remove the custom ad blocker rule(s) and the page will load as expected.