Brainerd Brown



First Appearance:

August 26th, 1951

Known Relatives:

Unnamed Father
Crewy Lou, Sister (deceased)
Unnamed Brother (deceased)

Appearance of Death:

September 7th, 1951

Created By:

Can Be Found:
Brainerd Brown was the brother of
Crewy Lou Brown
. He was a broad-shouldered man with light hair.
Brainerd was a professor at the University of Medicine who learned of his sister's criminal activities and was appalled. He became determined to eliminate her and remove the embarrassment to the family. Brainerd kidnapped Crewy Lou and began to arrange for her death, but she was able to kill him instead.
In light of the fact that Brainerd was a professor at a university of medicine, it is possible that he was also a medical doctor. However, this was not confirmed.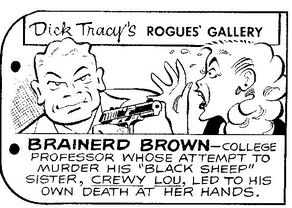 Ad blocker interference detected!
Wikia is a free-to-use site that makes money from advertising. We have a modified experience for viewers using ad blockers

Wikia is not accessible if you've made further modifications. Remove the custom ad blocker rule(s) and the page will load as expected.