Attitude Plenty



First Appearance:

April 24th, 2011

Known Relatives:

B.O. Plenty, Father
Gravel Gertie, Mother
Sparkle Plenty, Sister
Junior Tracy, Brother-in-Law
Honeymoon Tracy, Step-Niece
Jewel Tracy, Niece
Dick Tracy III, Nephew
Morin Plenty, Grandfather
Blossom Plenty, Step-Grandmother (deceased)
Crystal Plenty, Cousin
Kincaid Plenty, Uncle
Goodin Plenty, Uncle
Agate Aggie, Aunt
Extended Plenty family

Created By:
Attitude Plenty is the second child and only son of
Bob Oscar "B.O." Plenty
and
Gravel Gertie
. His face has not been shown, but he is apparently quite gruesome, with dark, wiry hair like his father.
Attitude Plenty was named after Eddie Tude, a pizza delivery driver who took Gertie to the hospital when she went into labor. He has a tendency to throw objects at his father's head with alarming accuracy.
B.O. took Attitude to meet his side of the family, leaving Gertie alone at Sunny Dell Acres with Sparkle Plenty and Jewel Tracy when Measles came seeking revenge.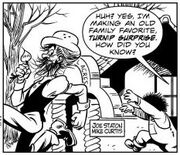 Attitude was later seen standing and walking, chasing his father in the yard of Sunny Dell Acres, but his face was obscured.
Ad blocker interference detected!
Wikia is a free-to-use site that makes money from advertising. We have a modified experience for viewers using ad blockers

Wikia is not accessible if you've made further modifications. Remove the custom ad blocker rule(s) and the page will load as expected.