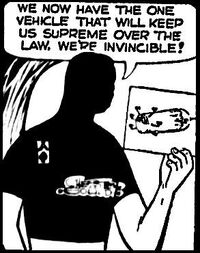 Little Notting was a man with "an inferiority complex so big, he had to turn to crime to get even". He then founded the 52 Gang with every member named after a card in a poker deck, he took the title the Ace of Spades.
Ace of Spades arranged for the King of Spades (his most trusted confederate) to steal the Space Coupe and kidnap Dyne O'Matick so the gang could get rid of its enemies more easily. Ace was captured by Dick Tracy who had infiltrated the gang and unmasked and arrested. He warned the gang to give themselves up, but they ignored him and were apparently all killed.
Years later, a man addressed as "Mr. Notting" was shown to be on the high council of the Apparatus. He stated that he preferred to be known as "Ace of Spades". It has not been officially confirmed that this is the original Ace of Spades.
There is no apparent connection between Ace of Spades and Big Ace.
Notting's facial features bear some resemblance to Flyface.
Ad blocker interference detected!
Wikia is a free-to-use site that makes money from advertising. We have a modified experience for viewers using ad blockers

Wikia is not accessible if you've made further modifications. Remove the custom ad blocker rule(s) and the page will load as expected.